Bangalore has its own way of treating you for the kind of destinations you plan. You plan for a café to chill out, with just some good food, sit back relax with music and yes with an absolute no for loud music and dance floors, Bangalore shouts Rasta Café for you. And only when you finally decide that to be your ideal destination for the relaxing weekend, does Bengaluru treat you with an added long – drive to add to the fun. Yes, ours was such, we made it to the Rasta, after a perfect thought out plan for what we really wanted to do for the day. I have split my review into sections- Location, Ambience, Cuisine, Hospitality, Dance Floor followed by a score-card based on my experience.
Location – A ride through the Nice Road, the Rasta is on the go put up right besides the highway road offering you a contenting welcome. No, for me it didnt happen as a pit stop at the highway, mine was a perfect planned out trip to Rasta but yes Rasta is well known for its one stop for all the perfect refreshment on the way to your destination. A good 40 minutes to 1 hour ride from the Bangalore city, the place is an absolute one for your weekends and sudden trip plans.
Ambience- A relaxed yet lively place, your motive to just sit back, relax and loosen up will be met as you enter this place. The interiors saw wooden look walls and roofs, beautifully arranged furnittures again in a plain wood like style. The exteriors are sceneric gardens having stone walks that stretch from the entrance gate to the cafes entrance. Notice Bob-Marleys portrait on the welcome board, the colors on the welcome board and on the interiors-Red, Green, Golden and Black, look at the artwork on the walls and the paintings done with a story- now you know the reason!!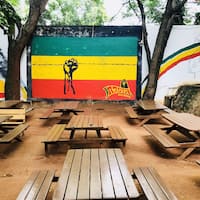 Rasta covers a 3 acre land, with loads of games, fun activites and adventure for adventure junkies! At Rasta you decide to be indoors yes rasta has some Indoor recreational games, you can have a good time playing a game of pool, playstation arena, foosball and more. If outdoors, you will find rock climbing, horizontal ladder, river crossing, rope walk, paint ball etc. Rasta's all in one ambience  will even let you sit back and relax with a book, good music and do I need to mention your big gang of friends will feel there's just no better place to sit with a  guitar or play dumb charcades!!
Cuisine-  Rasta serves a variety of  cuisines. From Italian cold coffees to Indian Aam pannas you can start with anything.
Coffee fanatics don't miss on  Rasta Black forest, that leaves you with a perfect smack of a german gateau. Variety of mojitos, and yes for chocolate lovers theres more – the Iced Rastaccino, left me with loads of chocolate in the mouth making me go crazy over chocolates once again. Crispy fired chicken, Asian Chicken Bites are what our tables saw.Allt the marination worked well, and could get spicy yet a perfect taste of the ginger,cilantro, chili and garlic on the chicken breasts. Multiple drinks both hot and cold, variety of food, for the time spent here I am sure nobody will go back home without giving a perfect treat to your taste buds.
Yes the 24-hour open café has seeshas or hookas, with a number of flavours. Again, do I neeed to mention why hookas and no drinks? Yes the Rastafari inspiration makes this place diifferent from the others.
Dance floor- No Rasta does not have a dance floor. But as I mentioned it has just a lot of activities fun and adventure that makes you explore the place more each time. The music played here goes from house musics to  instrumental musics. However during our visit, the songs weren't played after a short while, which was a little disappointing. But because the place is more about exploration, the rest of the fun continues.
Hospitality-  We did not ask the staffs for the music. Overall, the help they provided with choosing the right food and drink, and the serving etiquite and manners were good. We could see the staffs arranging tables for a large group that came in. Also when the crowd increased,  the staffs still seemed to be mindful of each table.